The UK has suspended further arms sales to Turkey for items that could be used in the country's military offensive in Syria.
Foreign Secretary Dominic Raab told parliamentarians on Tuesday: "The UK government takes arms export control responsibilities very seriously, and in this case, of course, we will keep our defense exports to Turkey under control." a careful and continuous review.
"No further export licenses to Turkey for items that may be used in military operations in Syria will be granted while conducting this review."
Turkey's military foray into Syria began on the seventh day of Tuesday, with reports of heavy bombing from Syrian Kurdish positions near a city in northeastern Syria.
Turkey's operation aims to remove Syrian Kurdish forces – which Ankara considers terrorists and is linked to a decades-long insurgency in the country – from its border.
President Recep Tayyip Erdoğan has promised to continue Turkey's military operations despite international condemnation.
Raab told the House of Commons: "With close partners, sometimes we must be sincere and clear.
"This is not the action we expected from an ally. It's reckless, it's counterproductive."
The foreign secretary added that Turkey's offensive "plays directly in the hands of Russia" and the Syrian regime, led by Bashar al-Assad.
Vice President of Turkey: "Do you want us to talk to terrorists?"
Raab also revealed that the "fluid situation" in Syria means that the government will have to "review" British citizens who fought with the Islamic State must face justice in the region or in the United Kingdom.
"We don't want to see foreign fighters returning to the UK," he said.
"We think the right way is for them to face justice, if possible and practical, in the region.
"But of course … given the fluid situation, we will have to keep all this under review."
Prime Minister Boris Johnson asked Erdogan to finish the phone fight over the weekend.
But Erogan has written in the Wall Street Journal: "The international community has missed the opportunity to prevent the Syrian crisis from driving an entire region into a whirlwind of instability.
"The EU – and the world – must support what Turkey is trying to do."
NATO Secretary General Jens Stoltenberg, speaking after a meeting with Johnson on 10 Downing Street, said he was "deeply concerned about the consequences" of the Turkish offensive.
"Both with regard to the fight against the Daesh (Islamic State), human suffering and stability throughout the region," he said.
Stoltenberg added that Turkey's suspension of arms sales to EU countries "reflects that many NATO allies are very critical and are condemning the military operation in northern Syria."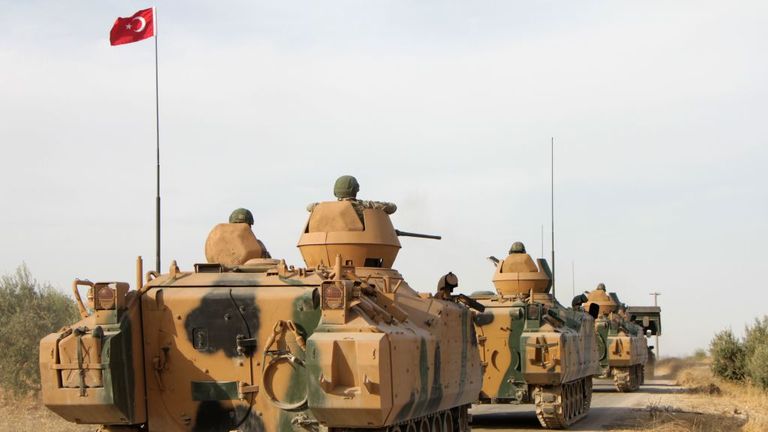 Image:
Prime Minister urged Turkey to end fighting
Activists have estimated that the United Kingdom has licensed $ 1.1 billion in weapons to Turkey since Erdogan became president of the country in 2014.
This includes arms export licenses for aircraft, drones, tanks and missiles.
Andrew Smith of the Arms Trade Campaign said the government was "ashamed" of restricting arms sales to Turkey on Tuesday.
He said: "The truth is that you should never be arming and supporting President Erdogan and his authoritarian regime in the first place.
"This change can not only be limited to future arms sales, but should also affect the hundreds of millions of pounds of weapons that have been licensed in recent years. As long as these licenses are still valid, these weapons can be used.
"This should also mark a turning point in UK foreign policy in Turkey."
Allan Hogarth, head of politics and government affairs at Amnesty International UK, said: "This is the right decision of the foreign secretary and it has not come so soon.
"However, the government should make it clear that this also applies to all existing licenses.
"The United Kingdom has a responsibility to minimize the risk of British weapons contributing to violations of international humanitarian law.
"What the UK did in days about Turkey should have done years ago in Saudi Arabia, given the carnage that the Saudi-led coalition has caused in Yemen.
"Today's change over Turkey is welcome, but it is a reminder of how disorganized and inconsistent the UK gun control system is."