In an episode of Friends, Rachel does a little Thanksgiving. Joey and Ross ask what's inside, so she tells them: a layer of ladybugs, jam, cream, raspberries, plus ladybugs, braised beef with peas and onions, bananas and whipped cream.
"The meat?" She asks when Ross seems alarmed. "Yeah, I thought it was weird too," she says. "But then, you know what, I thought: there are ground beef pies and an English dessert too. These people, they put very strange things in the food."
And so for this week's viral tweet, in which British journalist Luke Bailey pointed out that an US food site had just went and made a Rachel. In fact, a few months ago Spruce Eats published a recipe, with step-by-step photos, of a large pie of ground beef and apple.
As the site has since explained, its photographer confused minced mincemeat with ground beef to create the "abomination" that Bailey was obsessed with: a box of crushed dough stuffed with pink ground beef, topped with apple, butter and sugar, ready to be inserted into what the site said would make "a delicious teatime delicacy"To serve with cream or brandy sauce.
Dale ground beef base. Photo: Dale Berning Sawa
Of course you, me, and everyone else looking at the picture of a big, raw hamburger crushed in a crust will have Ross's same reaction to Rachel's misstep: MEAT? ON DESSERT? Oh no no no no no. But if you step back and look at what we do most with our meats, you'll find that the combo really isn't that weird. We caramelize pork ribs and cook the lamb with plums or apricots; we give chutney curry as sweet as jelly; and we throw up chicken with honey.
Also, our Christmas treats have been named more literally. Until the late 19th century, it was perfectly acceptable to mix in the tongue of ox, say, with its dried fruits. To this day, any mincemeat made with just one traditional recipe will include tallow – AKA beef fat.
Of course, it was not Spruce Eats' intention to give readers a history lesson. But isn't the pie she originally shot really edible? I decided to find out.
Following the recipe, as indicated, I make a shortcrust pastry with butter and enriched with egg. I fry the meat with a little butter; As I must lead people to prove it, I cannot risk the ground beef not being cooked. (I like salt too, because of course I do. Don't you?)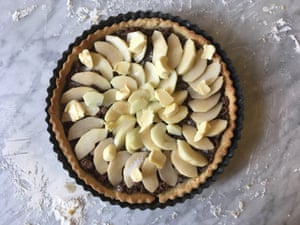 The final flourish: apple, sugar and butter. Photo: Dale Berning Sawa
Then I fill half the pasta with straight meat, the other with meat mixed with a portion of sweet ground beef so I can compare the flavors. Finally, I cover everything with apple, sugar and butter.
A friend appears the moment the pie comes out of the oven, so we hide. "That's cool," she says. "I wasn't looking forward to it, but it's surprisingly good."
And she is right. Pastry is a dream – and crucial, I think, for everything to work. Sugar is plentiful, apples turned into something tastier, delicious combination. I have a pot of chutney on standby, if that's the only way to handle the pie, but it doesn't have to. As long as I wasn't calling it dessert, I'd happily serve a pie made with ground beef only. Who would have thought that?
. (tagsToTranslate) Dessert (t) Pastry (t) Food (t) Baking