A border control center and truck park are being built in Kent to deal with possible disruptions on the coast after the United Kingdom leaves the European Union entirely in December.
The government bought land 20 miles (32 km) from Ashford's Dover port, with work scheduled to begin on Monday.
In a letter to residents, which has since been posted on Facebook, Transport Minister Rachel Maclean said the plans have not yet been finalized for the site, but "is expected to be part of the department's strategy to minimize possible disruptions. at the Kent ports ".
Image: The government has been practicing how to keep trucks in Kent, anticipating delays when the Brexit transition period ends
"This is likely to involve temporary capacity for the maintenance of overdue heavy goods vehicles and facilities for border controls to be carried out by government agencies (for example, HM Revenue and Customs)," said the minister.
Former cabinet minister and local deputy Damian Green said the site, known as MOJO, would initially be used as a truck park to deal with expected queues before being transformed into a checking facility.
While he supported the new customs center, Green told Sky News that he opposed the use of land as a truck park, since it "will take up a lot more space" and was "launched in the area without consultation".
The exact size of the site is not known, but local conservative adviser Paul Bartlett said he believed it would be larger than the 11 hectares reported by the Guardian newspaper.
He added that the new venture would bring much-needed jobs to the area, but warned the government against using land only to deal with delays.
"We don't want the site to be used as an Operation Brock truck park," he said.
"We want the end use of HMRC, business standards and scientific testing services."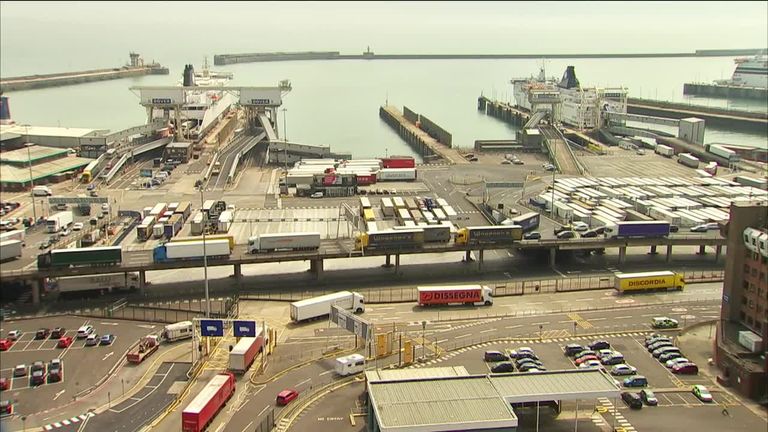 Truck park could last 'years' after Brexit
Operation Brock saw changes in motorway traffic flows in south-east England to deal with the congestion that could have been caused by a Brexit without a deal.
Fencing will be installed at the Kent site on Monday, along with preparatory work such as weeding and building a temporary office.
It was feared that new Brexit customs controls could lead to border delays and road delays in south-east England.
Earlier this week, a letter from international trade secretary Liz Truss was posted on the Business Insider website, in which the cabinet minister expressed her concern about the UK's ability to adequately control borders after the transition period ends next year. year.
A Department of Transportation spokesman did not deny that the letter was genuine, but told Sky News that the government does not comment on leaks.