Tasnim Lowe was 16 months old when she was found under the apple tree where her father had left her, wrapped in a blanket. Behind her, the house in Telford, Shropshire, where her mother, aunt, and grandparents lived, was on fire and would soon be completely destroyed. Her 16-year-old mother, Lucy, who was pregnant again, her 17-year-old aunt, Sarah, and her mother, Linda, were killed; Lowe's grandfather George managed to escape.
The following year, 2001, Lowe's father, Azhar Ali Mehmood, was convicted on three counts of murder and one for attempted murder. Eighteen years later, he is seeking probation, with an audience likely to take place in the coming weeks.
The case – and Lowe's attempts to understand why his father committed this crime – is now the subject of three powerful BBC Three films. Made over a year ago, the series follows Lowe as she uncovers the terrible truth about her parents' "relationship".
We met at her apartment in Telford. Lowe is small and slender and looks less than 20 years old. But when she speaks, she is so articulate and independent that she looks older. There is a slight hint of a burn scar just above your cheek. Making the documentary, she says, "affected my mental health because I had to capture so much information and process it … Now I can remember what I learned and understand better." She smile. "But at the time it was terrible."
Last year, Lowe was contacted by Mirror journalist Geraldine McKelvie, who was investigating the rings of child sexual exploitation (CSE) operating in Telford at the time Lowe's family was killed. The case of Lowe's mother seemed to fit the pattern – she was 13 when she met Mehmood, a cab driver almost 10 years older than she and 14 when she got pregnant. Coldly, other girls in Telford had told McKelvie that, at the time, Lucy's murder was used as a threat against speaking out. This was all new to Lowe.
Tasnim, three, with her grandfather George, who took care of her after her mother was killed. Photo: Fabio De Paola / The Guardian
This story led to this BBC documentary. Doing this, she says, "was good, because I wanted to know everything I could about the case. But sometimes there were things I couldn't… "She pauses. "Certain things I still can't get over."
She means details about the relationship between her parents. Miraculously, while filming, the police returned Lucy's diaries – Lowe didn't know they existed. In them Lucy had written about going to a place notoriously used to get rings and perform sexual acts on older men.
However, there was also some comfort in the new information. Lowe was raised by her grandfather (although she also lived with other family members and was in an orphanage for a few years as a teenager). It was a man who had lost his wife and two daughters, who suddenly had a baby to take care of. "My grandfather tried his best," she says, "growing up with him was very good, but I didn't understand why he was always unhappy. If you met him, you could tell he suffered a lot in life. So it was interesting to learn about what kind of person he was (before), with his family, to be so happy and happy. I feel it brought me and him closer. "
Lowe was too young to remember anything about his mother. All she had as she grew up were some photos, a little burnt and crumbling. There was only one mother and daughter together. She doesn't remember being told what had happened, but she grew up with some knowledge of the facts – that her father had killed her mother, aunt and grandmother. "All I remember was that my mother was in heaven and my father was far away. And that my father was not a nice person. "
She knew people had said her parents' relationship was "a little iffy," but she never thought much about the age difference. "But obviously, as I understood child sexual exploitation (CSE) better, I understood that there is a big difference. I was told a completely different story – they taught me that they were in a relationship and were not."
How was that? "We still don't know everything that happened," she says. "What we know is pretty terrible, so it's been hard." She talks about the pain of knowing that she was conceived in an abusive relationship in the movie: "I have a bad feeling about myself… and it's not really good to think about yourself same. Like that."
There is a powerful moment in the movie when Lowe challenges his grandfather because he didn't try to do more to stop Lucy from seeing Mehmood. She's divided, she says. "I get very mad at this," but "I don't want him to feel worse than he already is. I didn't want to look like the bad person, but at the same time I really needed him to realize what he did wrong. To recognize him I think he has.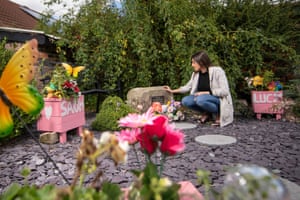 Lowe in a memorial garden for his mother, aunt and grandmother. Photo: Slater King / BBC / Expectation Media
Does she still feel angry? "No," she says. In 2000, people really didn't understand CSE or preparation, she says. And he was far from the only one whose inaction seems surprising in retrospect. "I wasn't sure what Linda was or what the police, or the social services, Lucy's school or anyone else was. I think he has learned and the rest of society has learned, and now I hope we can improve the way we deal with it." that. "
Lucy, she says, failed in the way that thousands of child-minded girls in gangs had such catastrophic results. "People knew what was going on, but they just didn't care enough or just blamed it. So it's disturbing, not just that I lost my mother, and my grandfather lost his daughters and his wife and all the life he used to have is also disturbing, because this is only one case among thousands. "Unsurprisingly, she says," I had a lot of distrust in systems and authorities because of that. "
In high school, people began to discover what had happened to Lowe's family, forcing her to face other people's vehement reactions to her personal tragedy. She had close friends she supported, but "pretty much all my friends have a definite view of my father or mother, so there are a lot of strong opinions." These days, she says with a little laugh, when people ask about her family, "I'm like Google."
Growing up, she had some contact with Mehmood's family. "There was a time in my life when I wanted to understand this side of my family, my culture and my father's religion and things." When she met them, they rarely talked about Mehmood and never about his crime. "They told me things about the Quran and about my grandparents, my aunts and uncles and my distant cousins ​​and relatives who were in Pakistan."
Amazingly, when Lowe was 16, she went to visit her father in prison – the first time she had any contact with him. Why did she want to meet him? "Curiosity," she says. "I wanted to form (my) opinions, deal with the situation, but also separate myself from it. Because I could have… "She pauses and says it's unlikely to happen right now," but I could have a relationship with him if I met him as a person. That's why I wanted to meet him – to see if we could get over it. "
Did she get what she wanted? "Not really. You know that when politicians answer questions, they really don't – that's how it was." I find it hard to understand how she might consider building a relationship, but unless you're the child born in a relationship abusive, it must be impossible to understand complexity. "I will always be a little confused. Because, biologically, I should feel a certain way, so it's pretty hard … And the fact that I don't have my mother with me, so I just have him and my grandfather, basically. "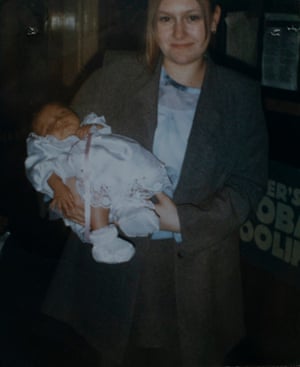 Tasnim like a baby with his mother, Lucy. Photo: Fabio De Paola / The Guardian
She says she grew up angry with her father and adds "but not very angry. I know what my father did was wrong and terrible. But for a person to do this kind of thing – sexual abuse, murder, all that – there must be a reason why he is doing it. But for other people at the time who could see all these things happening before the criminal attack, they really could have done something much earlier. "
Early last year, Lowe's family discovered that Mehmood would be eligible for parole. "My family would not like him to be conditional. But if you do, they don't want him to be in Telford. And they also asked him … it's like a restraining order. If he contacts me or my grandfather or some family members, he will return to prison. "Is that how she feels? "I think he better not contact my grandfather and family," she says ambiguously.
How does she feel about the possibility of him being released? She believes they should review his case and investigate whether he should be charged with sex-related crimes. In the documentary, a West Mercia police superintendent says this is unlikely to happen. Lowe would like her mother's case to be part of the ongoing CSE investigation at Telford. Lucy didn't have justice, she says. "I think that ultimately, to have justice, you have to be responsible for all the crimes committed. But if it does not and he is released, I do not know. "She pauses. "I won't wish anyone any harm. Do you know what I mean?"
Not really, I say. I find that incredibly generous. I don't know how it went relatively – in my eyes – unscathed. "I had a lot of advice," she says with a smile. Became a resilient and alive woman – works as an assistant to …
. (tagsToTranslate) Women (t) Life and style (t) Crime (t) UK News