Brexit has been a pressure cooker for our government, parliament, political parties, parliamentarians and for all of us – and finally tensions have really broken out.
Back in business after the Supreme Court ruled that the government's decision to suspend parliament was illegal and therefore void, the whole place was absolutely furious from the moment Geoffrey Cox went to the dispatch box at 11:30, ending the game almost 12 hours later.
The attorney general, the Prime Minister's warm-up act, he quickly set the tone. Yes, this was a government that had been warned by the Supreme Court for extending parliament illegally. But there would be no excuses, no contrition, no regret.
Image:
Geoffrey Cox opened for Prime Minister
Instead, the government's main legal brain unleashed an unrestricted attack on parliament, breaking into a frenzy as it raged against the "cowardly" labor bench and "cowardly" parliamentarians for refusing to grant a prime minister election.
"This parliament is a disgrace," he exploded to the derision of opposition parliamentarians. "This parliament is a dead parliament. It should no longer sit, it has no moral right to sit on these green benches."
He said: "The time is coming when not even these turkeys will be able to stop Christmas!"
MPs raged. Labor's Barry Sheerman shivering with anger at accusing the attorney general of "not being ashamed of everything." "Coming here with your lawyer's arrogance to overshadow the truth – a man like him, a party like that and a leader like that to talk about morality and morality. It's a shame."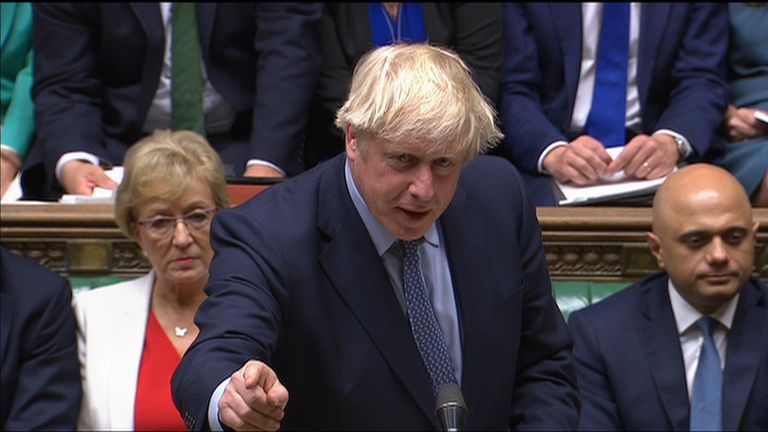 & # 39; Let's go! & # 39; – Prime Minister challenges Corbyn to vote for non-confidence
With the scenario set, Johnson was right when he came to parliament, impenitent and outraged, as he tried to incite his opponents to come up with a motion of no confidence in the government.
The people versus the parliamentary election, Johnson considered himself the prime minister trying to make the largest popular vote in history, while the establishment – whether the parliament or the courts – blocks its way.
The provocative and incendiary language as it sought to portray its political rivals as undemocratic and treacherous.
Parliament was "refusing to live up to the people's priorities," while Jeremy Corbyn and his comrades "do not trust the people. They are determined to throw away the referendum at all costs."
"We will not betray the people who sent us here," he shouted as the deputies erupted in fury. Complaints that his inflammatory words were being quoted in death threats were dismissed as "scams."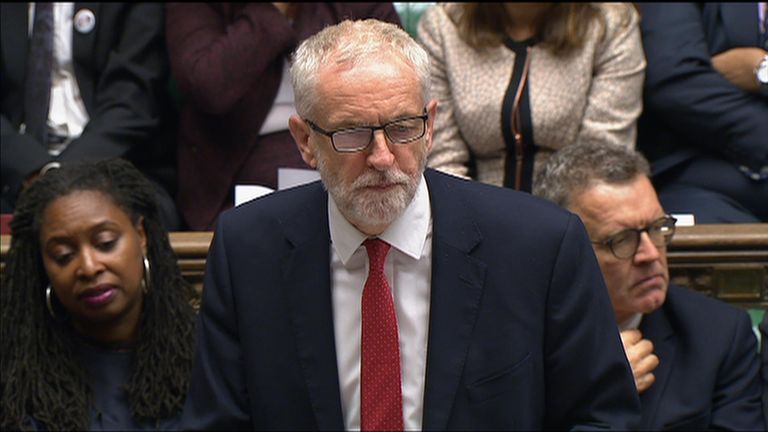 & # 39; This government has failed the people & # 39;
When he told lawmakers that the "best way" to honor Jo Cox, murdered in the 2016 referendum, was to "do the Brexit," the chamber went from boiling point to a complete collapse. Some deputies left the chamber in protest. Others burst into tears.
But undoubtedly, this is a deliberate and calculated strategy to proactively stimulate public anger. Johnson's policy on the dispatch box on Wednesday was taken directly from Trump's handbook. The more his rivals rage against him, the better. His path to electoral success is based on fomenting the division to get his vote.
& # 39; Threats against my son are not scams & # 39;
Johnson has no interest in uniting a nation. He has every interest in convincing Brexit supporters to support him in a general election. If he manages to win 35 percent of the popular vote of that 17.4 million supporter, he can remain prime minister. Everything he does now is designed to prove to them that he is the only one on their side.
The people against parliament stand against the license – there will be much more grudge and anger in the coming days. But we are in an impasse. The prime minister demands an election, his opponents refuse to grant one until he obtains an extension of Brussels.
Both sides deepened – for now. But Brexit Day is fast approaching and between then and now something has to give. Opposition lawmakers may try to insist that the prime minister request an extension before the October 19 deadline to anticipate the inevitable confrontation.
But if they do not, we know for sure that this prime minister's Brexit plan meets the new law by requiring him to request an extension if he cannot secure a deal.
What parliament – what Johnson really needs – is to agree to a Brexit compromise. But after that day, that prospect never seemed so far away.