The former House of Commons president denied charges of bullying against him in an interview with Sky News.
John Bercow, with Sky News covering general election results, said some working relationships had failed during his career, but accusations that he was a bully "were not true."
He said, "I have never bullied anyone in any way, in any degree and situation, at any time. That is not true.
"I would emphasize that you can look at the facts.
"I had several people in my office who worked for me year after year after year."
He added, "Several people worked for me for five years, six years, seven years."
Bercow said: "Andrea Leadsom is entitled to her views, but she does not have a very strong understanding of the parliamentary process and is entitled to her opinion, but suffers from the material disadvantage of being wrong."
More on General Elections 2019
Asked about an investigation into the allegations that never came to be, he said: "It was not swept under the carpet by me, it was up to the House to judge what the procedure should be.
"If someone wanted to file a complaint, he or she should have the opportunity to do so."
He continued: "In a working life, you expect most of your work relationships to be successful, 70% or more, perhaps not a bad orientation.
Majority "much larger than expected"
"Some work relationships fail and a very small number of mine failed in the early years, but that doesn't prove that one person abused another, that it wasn't the right fit, it didn't work.
"I have an extremely harmonious relationship with both my constituency's office staff and my speaker.
"When I sat down, there were past employees making contact to say they wanted to go back and they wouldn't do it if I was some kind of ogre."
He was also challenged for his role in the House of Commons, mainly because some people saw him as a force against Brexit, along with some defenders on both sides.
Mr. Bercow told Sky News: "I have always seen it as my role to uphold the rights of members individually and of the House institutionally.
"It was not the speaker's task to finish Brexit or prevent Brexit from ending
"It was up to the President to let the House breathe, to allow members to say what they wanted, to discuss motions and matters of their choice.
"When members came to me and said they wanted to discuss XYZ motions or we are looking forward to supporting the amendments to a government motion, my instinct was to be permissive and to say yes it should happen.
"In terms of outcome, those were the numbers, the Speaker does not vote unless there is a draw.
"I had to vote once and I first voted for the speaker, but I wasn't making a speaker decision."
He acknowledged that some of the decisions he made were "controversial".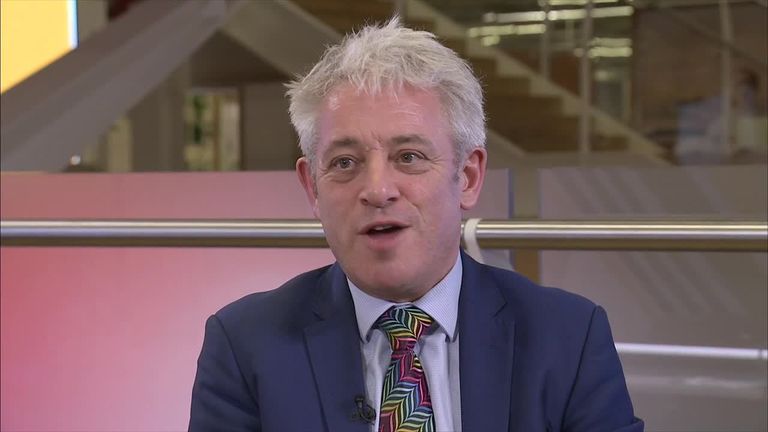 Bercow faces quick questions
Bercow added, "I don't think I went too far.
"In one case, I was trying to protect the House from being scolded, bullied and bullied to vote for something she said she didn't want, namely Theresa May's withdrawal deal.
"The long-established precedent should not be repeatedly requested to the House to comment on something where it had already made a decision.
"House decisions are important and they should not be returned day after day, on the principle that you will be beaten until you do what the executive says you should do.
:: Listen to the unwrapped campaign Apple Podcasts, Spotify, Google podcasts, Spreaker
"I once said that if we are guided solely by precedents, manifestly nothing will change. I made that point in January of this year, when I allowed an amendment of a former attorney general, and I am in favor of it, to be debated by the House.
"I remember the former whip boss said he would not dictate what happened at the House and said I am not trying to dictate, the House will decide.
"If the Speaker is a little cowardly from the executive branch, pushed around and told what to do, that person will be a floating cork in a rapid stream of water.
"It would be an absurd situation."
Bercow also confessed that he would like a pariah, something traditional when a Speaker says goodbye, but said he was not "losing sleep" about whether this would happen.
He said he would be an interlocutor, not a conservative, as is a tradition for a former president.
Brexit's election on Sky News – the fastest results and in-depth analysis on mobile, TV and radio.
· Watch John Bercow with Dermot Murnaghan Live All Night
· Follow the Social Election program on Sky News website, app and social media channels
· Watch the KayBurley @ Breakfast election special on Friday morning